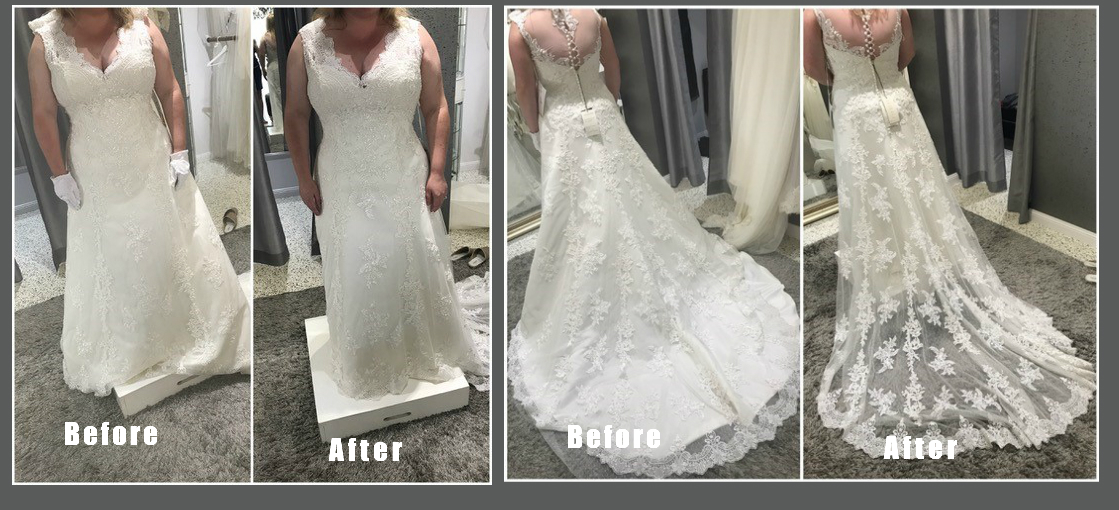 Connie Di Genni
Wednesday, February 28, 2018
ALTERATION OF THE WEEK
This February's bride only came in for her first appointment in January! She'd heard good things about my alterations for different shaped bodies and thought that I might be able to finally help her find the right dress for her size 18 figure.
After trying on a few dresses, we narrowed it down to two. Of these, her favourite was a dress with a satin A-line skirt. However, we both thought that the sharp and heavy skirt wasn't as flattering as it could be - it was stiff unforgiving and the bride is also quite short.
To counteract this, I lifted the dress about three inches at the shoulders. This also allowed me to change the back neckline to better suit the bride's bust and torso.
I then removed two panels from the sides of the dress to reduce the width/flare of the skirt. I also removed the heavy satin lining from the train - this makes the dress physically lighter, visually lighter, and much more comfortable in our February heat!
All-in-all a very successful month turnaround!
Bride is size :18
Justin Alexander 8822
Connie xo