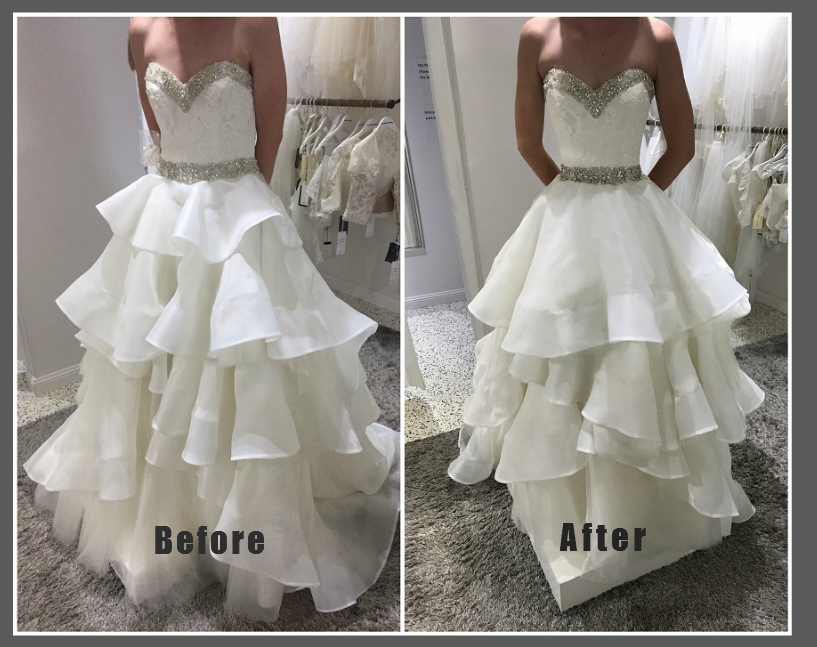 Connie Di Genni
Tuesday, August 15, 2017
Hi Brides,
I usually baulk at selling a dress three sizes too big; however, this bride had neither time nor budget on her side.
Fortunately, this dress was priced well under $1000 and the style was suited to a youthful bride, and with a few tweaks we were able to recreate the dress within her timeframe and budget.
There were two key changes made to the design of the dress:
I first removed the top tier of the skirt - this reduced the overall impact of the voluminous skirt, an important change considering how slender she was.
I then ran the dress in along the back zipper - primarily to reduce the size of the bodice - however, this also changed the design of the back of the bodice from a v-shape to a straight back, increasing the support of the weighty skirt on her petite frame.
I try to only recommend drastic changes like this to dresses that are already significantly reduced in price, because these alterations can be very costly. Although I do have to admit it can be very fulfilling to use my creativity to remake a dress that was otherwise 'old' stock!
Connie xo