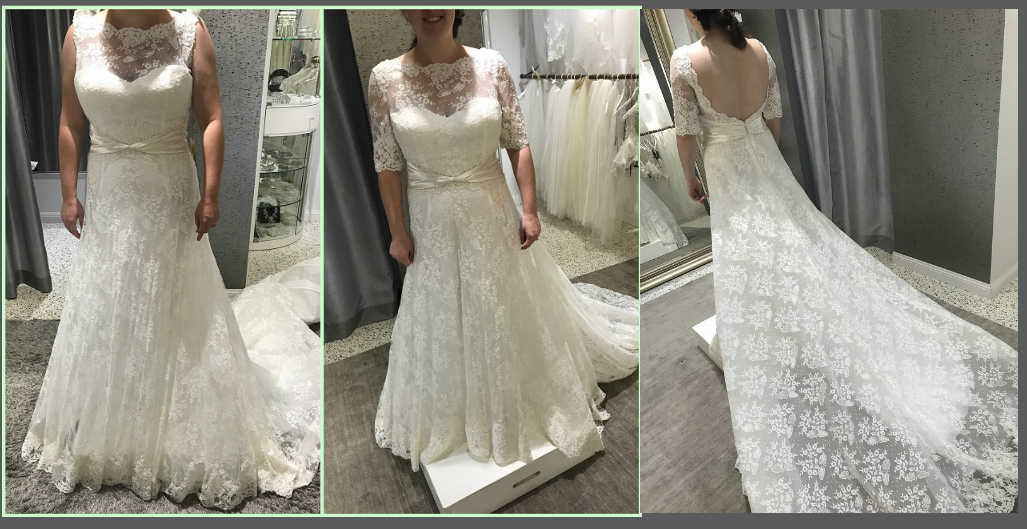 Connie Di Genni
Friday, August 03, 2018
Alterations Before and After
The number of comments that my alteration 'before and after' pics generate just goes to show how beneficial it is for brides to see how alterations take place in real time, on real brides.
This dress is the LM 2839B LM by Lusan Mandongus. It has a straight cut skirt lining topped with an A-line lace overlay, which simultaneously creates a sleek hourglass shape with a soft 'flowy' touch. The bride was specifically looking for a dress with a high neckline and a low cut back.
Being a shorter bride with a typical apple shape, the detail at the satin pleated waist band worked well to accentuate her waistline and soften the fall across her hips. Being a winter wedding, the bride preferred sleeves, so I ordered extra lace and added 3/4 sleeves.
To provide bust support, I removed the back fastening of her bra and sewed the cups and side structures into the dress.
Connie xo