Bride buying her second wedding dress
Connie Di Genni
Monday, May 29, 2017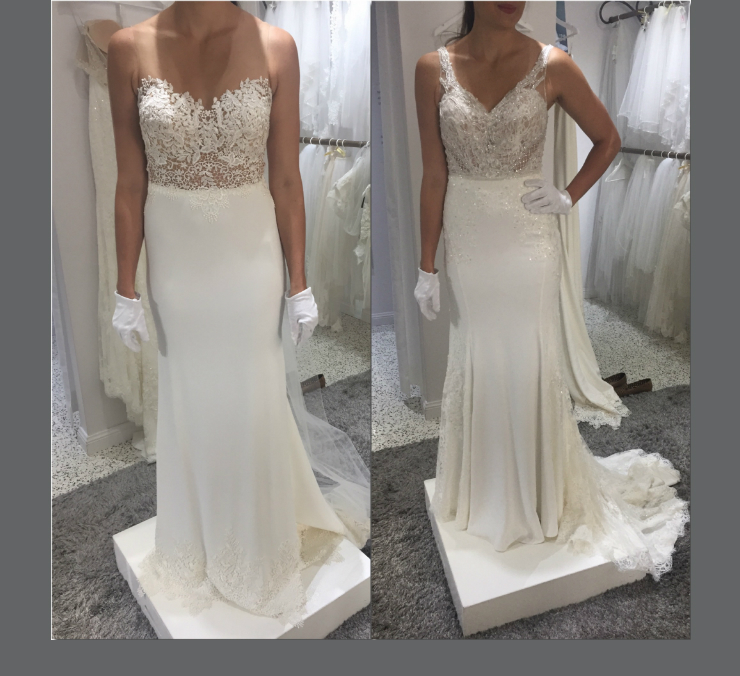 Hi Brides,
I had another bride in buying her second dress this week. She wasn't happy with the choice she made with her first dress even after the alterations were completed.
She loves Martina Liana gowns and sent me an email saying her wedding was only four weeks away, and did I think I could help?
She came in before I left for Barcelona and narrowed her selection down to two dresses straight off the rack. I suggested she take some time to think about it because the boutique was going to be closed and no one would buy them in the interim. She would have time to process it all and ensure she was making the right decision this time around. It would also give her time to break the news to her mum!
These are the two dresses she was deliberating over. They are both lovely dresses but one definitely suits this bride's figure more than the other. She has a rectangle shaped body and the style on the right utilises a diagonal design on the bodice and, along with the v neckline, draws the eye downwards to give this bride a waist.
Her mum was happy for her daughter, despite this being her second dress. I don't have a photo of the first dress as it was at the alterations place, but I can see why her mum was pleased she had finally found a dress she loved!
Connie xo