Concerns with the look of the hips area
Connie Di Genni
Thursday, April 26, 2018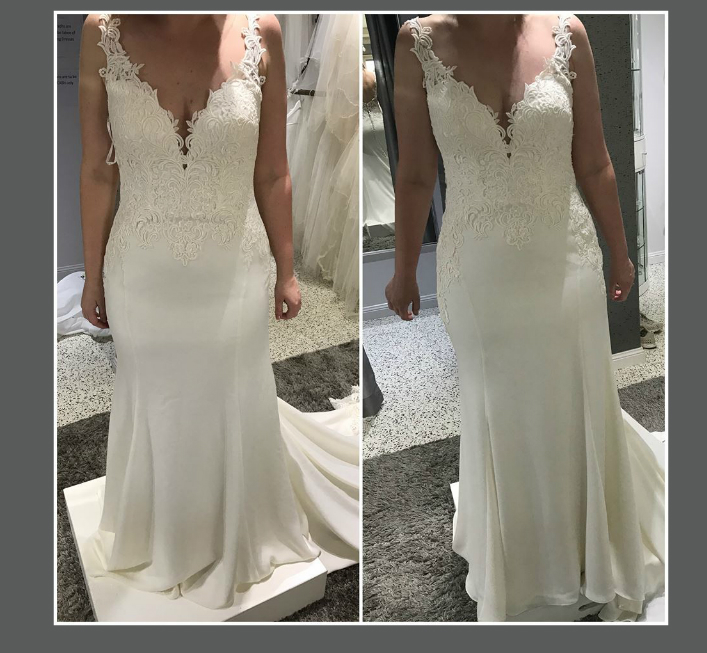 Alteration of the Week - size 14 Essense of Australia 2332
This bride loved that her dress had a plain crepe fabric skirt and wasn't all lace, but she had concerns about how her hips and thigh area looked without the 'disguise' of lace to hide the lumps and bumps.
The corded lace of the bodice much heavier than most laces, and is a good design point for this problem - the heavier texture brings the attention to the upper body and away from the skirt.
To further soften the bride's areas of concern, I appliquéd extra lace to the hip area of the skirt. This covers the side seams, smooths the fall of the fabric over the hip and softens the middle of the skirt front. It's fortuitous that designers allow you to order extra matching lace when you buy their dresses, as it frequently comes in handy during these types of alterations.
In addition to this, I made a few slight alterations to the fit - I let out the skirt to give it a little more movement, and I ran the bodice in so that it fit better.
These before and after shots were only taken two weeks apart, and no weight was lost during that time. These alterations have definitely worked to make the bride look thinner in the after photo - it's amazing what a correctly fitting dress can do!
Connie xo