Developing second thoughts
Connie Di Genni
Monday, December 04, 2017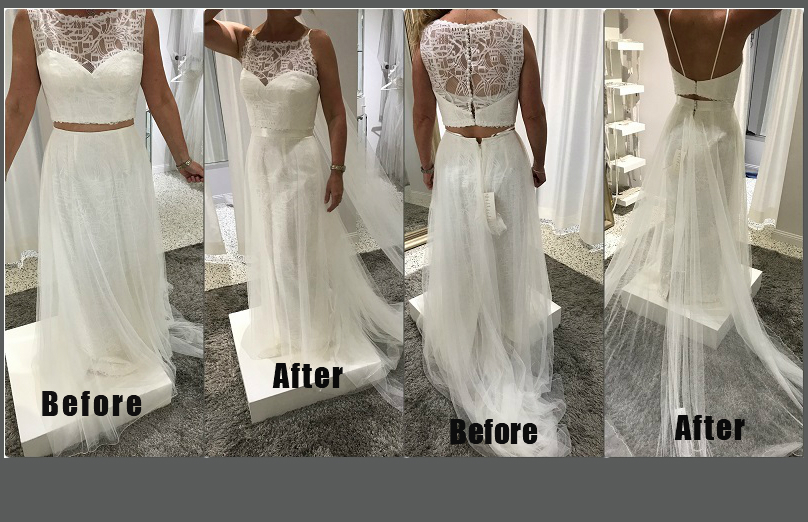 I recently had a bride that developed serious second thoughts when her dress arrived. She was concerned that she looked boxy, that she felt too restricted and that she didn't like the covered back or revealing panels at the waist. She was quite upset, because she had previously looked everywhere for a dress, and this was the closest she had come to finding the right one, but she still didn't feel that it was right for her relaxed Palm Cove wedding.
I explained that I can use my sewing skills to change the styling of the dress and that she just needed to get her thoughts together (she was panicking) and send me an email with some photos or ideas of what she would like.
Over a couple of fittings, we worked together to change her dress into her Dream Dress!
1. I added a 4cm waistband so that there was no skin showing through the reveal panels.
2. I ran in the underskirt which removed a lot of the volume.
3. I shaped the front lace to angle towards the centreline so that the dress gave the illusion of being less boxy.
4. I removed the lace illusion back and added shoestring straps.
As you can see in the before and after pics, these four small changes made a very big difference to the overall dress.
She confessed at her second fitting that a colleague had told her that I came highly recommended and that 'if Connie can't fix it for you, no one can!' Luckily I came through with the goods, and this bride left the boutique tonight jumping up and down with happiness and saying to me 'I love it! You did a fantastic job.'
I said thank you for trusting me!
Connie xo