Evie Young Bridal
Connie Di Genni
Thursday, May 21, 2020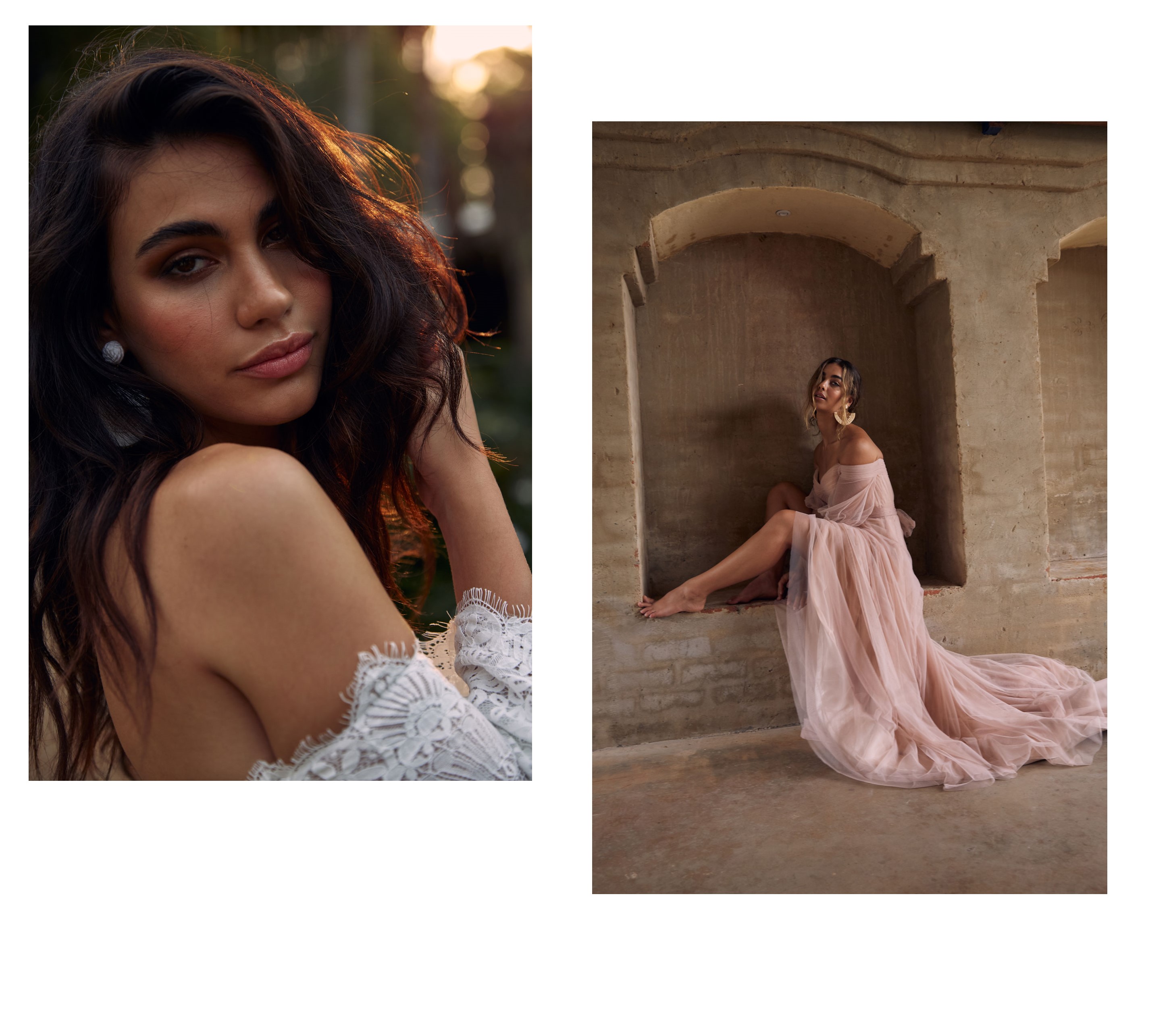 Introducing Evie Young Bridal
THE BRIDE
FOR THE BRIDE THAT STANDS BOLDLY IN INDIVIDUALITY AND WHO CONFIDENTLY LIVES AS SHE IS – A MASTERPIECE OF HER OWN MAKING. SHE IS ALL ABOUT WRITING HER OWN RULES, WALKING HER OWN RUNWAY, BEING HER OWN STATEMENT. SHE IS THE STAR OF HER OWN SHOW AND THE AUTHOR OF HER MANY ADVENTURES. UNBOUND BY CONVENTION, SHE SEEKS THE EXTRAORDINARY IN HER JOURNEY AND IN HER WEDDING DRESS – A DESIGN THAT IS WORTHY OF HER SOUL'S EXPRESSION.
THE DRESSES
UNDERSTANDING AND EMBRACING THE CONCEPT THAT NO BRIDE IS THE SAME, OUR COLLECTIONS BLEND BOTH THE BOLD AND SOFT, THE ELEGANT AND UNCONVENTIONAL, THE FASHION-FORWARD WITH THE CLASSIC. DESIGNING OUR OWN OPULENT LACES AND FABRICS KEEP THE EVIE YOUNG VIBE EXCLUSIVE AND EXCEPTIONAL.
KNOWING THAT COMFORT IS AS IMPORTANT AS STYLE, OUR SIGNATURE FUSION CONSTRUCTION COMBINES THE FREEDOM OF SOFT NON-WEIGHTY FABRICS AND UNRESTRICTIVE SKIRTS TO KEEP YOU CAREFREE AND FOOTLOOSE. ACCENTUATING THE FEMININE FORM WITHOUT SACRIFICING CLASS OR YOUR FLAIR, ALL DESIGNS CONTAIN JUST ENOUGH BODICE CONSTRUCTION TO HIGHLIGHT AND SUPPORT WHERE NEEDED.
TO US, SIZE DOES MATTER WHEN IT COMES TO BEING INCLUSIVE AND THEREFORE ALL EVIE YOUNG DESIGN PIECES CAN BE CREATED IN SIZES 2 TO 28. MOST OF OUR DESIGNS ARE OFFERED IN A RANGE OF COLOURS AND INDIVIDUAL PERSONALISATION OPTIONS TO BESPOKE YOUR BRIDAL VISION.
YOUR GOWN IS MADE ESPECIALLY FOR YOU AND CAN BE PURCHASED THROUGH ONE OF OUR CAREFULLY SELECTED, LIKE-MINDED BRAND PARTNERS WHO ARE JUST AS IMMERSED AND ENLIVENED BY BRIDES AS WE ARE.
OUR DESIGNS COME TO LIFE AND ARE TRANSFORMED AND DEFINED BY THE WOMEN WHO WEAR THEM. EVERY BRIDE MAKES THEM UNIQUE. SEEING YOUR WEDDING PHOTOS ARE THE BEST PART OF OUR EVERY DAY, AND WE ARE SO LOOKING FORWARD TO SEEING YOURS. WE WOULD LOVE YOU TO MESSAGE OR EMAIL THEM TO US, OR TAG #EVIEYOUNGBRIDAL SO WE CAN JOIN IN YOUR WEDDING DAY JOY.
Connie xo