Factory Error
Connie Di Genni
Thursday, December 14, 2017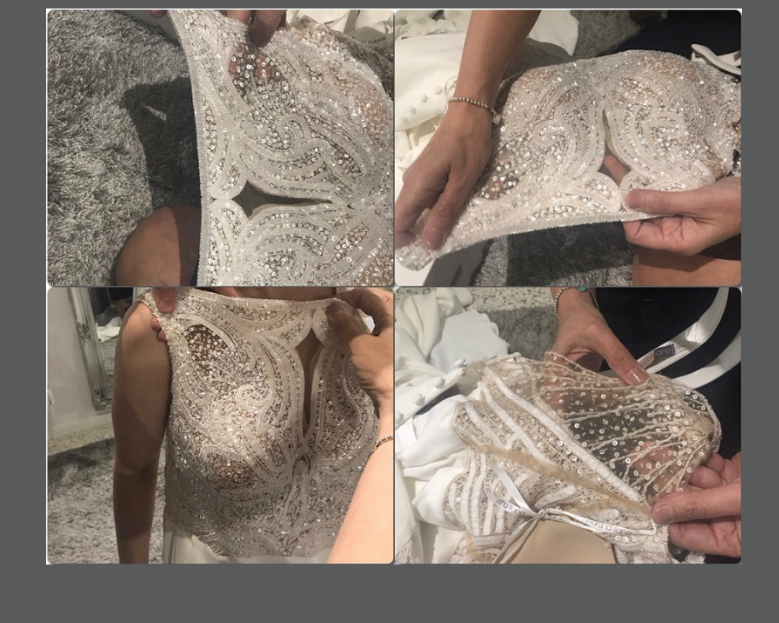 Recently, I was pinning a bride during her first fitting, and I was having a little trouble getting the bodice right.
Being very petite, this bride had ordered a size 7 dress, as per her measurements. The dress fit beautifully across her waist and hips but the shoulders were cut so wide that the edges were falling off down her arms. This was causing me a lot of concern, because the bodice was intricately beaded and difficult to perform alterations on.
I could tell that the bride was also getting worried about the bodice, and when she stopped me to ask if the sleeves were meant to fall down, this confirmed it for me!
I asked her to take the dress off and put on a shop robe. While she was getting changed, I found the size 10 sample on my racks.
It was clear to see that the two dresses were the same size!
Together we took photographs and videos of the two dresses and I called the designer. I explained that I suspected an error had occurred and sent through an email with the pics as evidence.
I reassured my bride that I would get to the bottom of the issue and find a resolution. The designer arranged for the dress to be couriered back to the factory and it was confirmed that an error had been made.
The designer fixed the sizing issue - and we all know that factory workers are just human after all - and the dress fits much better.
When I was talking to the designer about it, she said 'wow, Connie, you have a good eye!' I explained that it was my history as a made-to-measure seamstress that allowed me to pick up on these things. I've had three pattern errors from three different designers in the time I've been selling off the rack. If these brides had gone to a boutique without an in-house seamstress they would have spent thousands of dollars on a dress that never had a hope of fitting correctly.
Connie xo