Nervous plus size bride
Connie Di Genni
Monday, September 28, 2020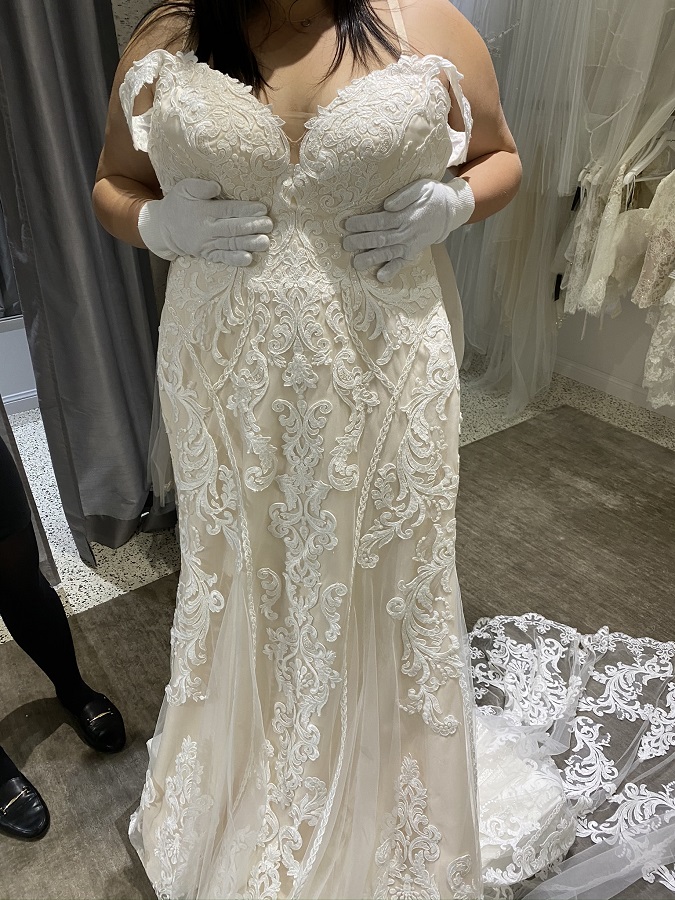 Hi Brides-to-be,
I had a plus-size bride come in on Saturday. She was very nervous. When she emailed me to ask if I had plus-size gowns to try on in her size, she explained that she had been to a number of Sydney bridal shops only to be turned away and told that nothing would fit her ☹. I said that I stocked a range of plus-size gowns, and that while some might not fit her, they would be close enough that I could use them to explain how they would suit her body shape, and where the bust, waist, hips, shoulder straps, and back neckline would sit on her body.
This bride wanted a fitted dress. I am a BIG supporter of fitted dresses for plus-size brides! I knew I had the perfect dress from Essense of Australia (D3114). It was going to be a size or two too small, but as the bride was one-on-one and only had her mum and sister at the consultation, she wasn't able to put the dress on , and I went through and showed her how it would fit her if it was in her size.
This dress has a few really great design elements that caused me to purchase it as a plus size sample. It is very structured, it has linear lace placement that directs the eye downwards, the back is lined in a v-shape then topped with sheer boned lace (which I love). The skirt has a soft, swishy flare. I ordered my sample in a size 18, but it's been so successful on larger brides, I really wish I ordered it 2 sizes bigger!
After chatting about it, the bride decided to order the dress in the deeper 'moscato' coloured lining. This will make the linear lace really POP!
I really enjoyed this consultation, and so did my shop assistant Paige. It was so fulfilling and we were both on a high after it finished. We can't wait to see the dress on in person. She was such a beautiful bride, and it goes to show that beauty is so much more than just our size. She was so lovely to be around, and she will rock this dress. She walked out so happy.
Connie xo