Poppy Married at first sight
Connie Di Genni
Wednesday, January 29, 2020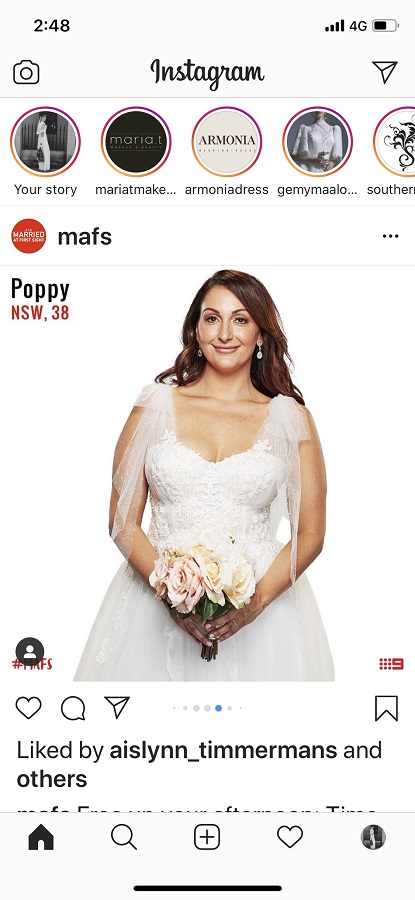 https://www.facebook.com/MAFS/videos/1037851736557749/
Woohoo! I can finally post this!
Last July I received a phone call from a producer to ask if I would mind being filmed for an Australian reality TV show. It was only a short conversation, and she didn't give me any information other than the name of the production company. After the call ended, I googled the company, and looking through the list of shows they take care of, I thought to myself, "Well, I'm not going to be on Survivor...Master Chef? No, I can't cook! MAFS! Yes, there's a possibility!"
When the producer rang back after a couple of weeks, she said asked, "Did you guess which show?"
"Ummm, YES! MAFS!"
I wasn't given any information about the bride until the first day of filming, the 8th August. But when I caught a glimpse of her outside my shop, I said, "OMG!!! It's Poppy!"
Poppy bought her first wedding dress from me in 2012, the year I first opened. I still remember the dress, a beautiful Justin Alexander. If you have a listen to her intro video on the MAFS site, you'll know why it didn't work out. Very sad, but good riddance.
We only had a few weeks to get a dress for Poppy. The producers had to approve of the dress choice, and Poppy had to love it.
Which meant we were limited to off the rack, unless I could pull a few strings. We weren't haven't too much luck with what I had in stock - the dresses we all loved were the wrong size, and the ones that fit weren't quite right. But we did narrow it down to a design by Lanesta. I'm the only NSW stockist of this designer, and it's relatively new to Australia. So I emailed Lanesta Bridal and asked if we could have an expedited turnaround time. The answer was a big fat YES!
Poppy chose a Lanesta dress called Abraao. It has soft tulle now straps, a full tulle skirt and a delicately beaded bodice. Impressively, they made the dress in five days and it was express couriered from the Ukraine, to arrive here just 12 days after we ordered it. We were lucky that no alterations were required.
I'm not sure if I'm in the show visuals, but I was there when filming was being done and I had a microphone attached to me. It was very exciting to be a part of it! I said to the filming staff that I really hope Poppy finds the man of her dreams; she deserves to find happiness.

I can't believe that this year I said to myself "I'm not going to be watching MAFS this year." But now l have a great excuse to watch it!
Stay tuned, the season starts 3rd February.
Connie