Buying from a bridal seamstress
Connie Di Genni
Wednesday, November 13, 2019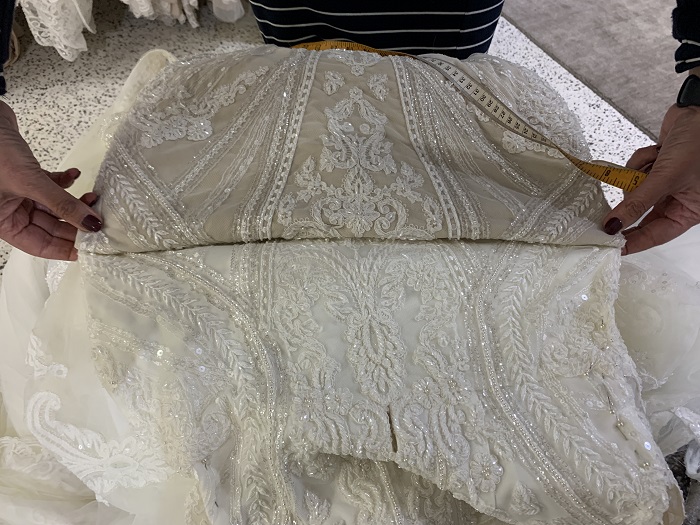 Hi Brides.
We had a bit of a state of emergency in the boutique a few weeks ago. I had a bride who had ordered a custom design gown - a design from a designer with a bunch of agreed-upon changes made at the cutting stage. She came in for her fitting to see what alterations to bust and hem-length would need to be done, and we could both immediately see that the dress was significantly too big for her. Her weight loss had been minimal since ordering the dress (she didn't need to lose weight!) but I thought I had better take her measurements and compare them to the measurements I had recorded and provided to the designer. Yes, just as I thought, only an inch off her waist and and inch and a half off her hips - not enough to impact the dress sizing this dramatically.
I could tell we were both getting worried at this stage, so I suggested we hold the size 12 dress up against a size 14 we had in the store. Lo and behold, it had been cut at a size 14! No wonder it was so big.
I took photos and videos and immediately contacted the designer - her wedding was just five weeks away. At first the designer hinted at grading the dress - this is where you recut the dress from the existing fabric, running it in here and there, to 'make it fit'. It's never going to give a perfect fit. I refused to consider that and express shipped the dress that afternoon so that they could confirm that it was, in fact, incorrect.
The got to making the new dress immediately, and with a bit of trust in the couriers, we were able to have it ready *just* in time for her wedding! It was very stressful for both my bride and myself, because I really hate seeing my brides upset.
Now that it's all sorted, I can definitely sit back and say that yes, we are all human and it was just a mistake in the cutting room. The designers were very helpful in getting it remade in time. But what DOES worry me is if I hadn't been a seamstress in my former life, there's every chance that the mistake wouldn't have been picked up on and the bride's weightloss would have been to blame for the poorly fitting gown. Definitely make sure you know what and who you are buying from before you commit all that money!
Connie xo