Evie YoungTrunk Showing
Accapella Bridal will be hosting our newest designer, Evie Young Bridal, for a trunk show on the 3rd to 5th July 2020.
I previewed the 2020 collection back in Febuary and girls...it is STUNNING.
You'll be among the first brides to see the new designs, before the new dresses are released. This trunk show is perfect for brides getting married from End of November 2020 onwards. I'd love to see lots of girls come in, as seeing the dresses on 'real life' bodies helps be decide which dresses to buy for the boutique!
A LABEL OF MODERN CONTEMPORARY BRIDAL GOWNS THAT EMBODY SYNERGY AND FEMININITY. COLLECTIVELY FUSING POLAR DESIGN ELEMENTS AND STYLE, OUR COLLECTIONS ARE HARMONIOUSLY REPRESENTATIVE OF THE WOMEN WHO WEAR THEM – BEAUTIFULLY DIVERSE AND SUPREMELY EXCEPTIONAL.
PRESENTING BRIDAL CREATIONS THAT ARE LUXURIOUSLY UNIQUE TO THE BRIDAL INDUSTRY, EVIE YOUNG CREATIONS FEATURE IN-HOUSE DESIGNED EXCLUSIVE LACES, EARTHEN TEXTURAL LAYERS AND INNOVATIVE SILHOUETTES. WITH A FOCUS ON THE MULTI-FACETED DIVERSITY OF BEAUTY AND ALL THAT IS FEMININE, OUR LABEL IS AKIN TO A MONTAGE OF INDIVIDUAL LOVE STORIES.
MAKING IT OUR MISSION TO TRANSCEND THE TRADITIONAL, MODERNISE THE MONOTONOUS, AND INSPIRE INDIVIDUALITY, WE DO ALL WE DO WITH PASSION AND MINDFULNESS – FOR OUR BRIDES AND FOR OUR WORLD. WE ARE CONSISTENT IN OUR DEDICATION TO MAKING OUR FOOTPRINT SMALLER IN ALL CREATIVE AND BUSINESS PROCESSES IN SOLIDARITY WITH ETHICAL AND MINDFUL PRODUCTION PRINCIPLES.
DESIGNED IN AUSTRALIA, THE EVIE YOUNG BRAND EMBODIES THE ATTRIBUTES OF OUR AUSTRALIAN HERITAGE. WE VALUE THE BLAZING OF NEW TRAILS, THE INSPIRATION OF ALL THAT IS NATURE, THE COMRADERY OF COMMUNITY, AND THE FINDING OF JOY IN EVERY PART OF THE JOURNEY. WE SALUTE THE BRAVE AND BOLD, ADMIRE THE KIND AND CARING, AND REVERE THE TRAILBLAZERS AND WORLD-CHANGERS. WE ARE HONORED TO BE WORN BY THE AUTHENTIC WOMEN OF THE WORLD.
INTRODUCING, EVIE YOUNG BRIDAL.
3rd to 5th July 2020
Book your Appointments
We only offer One-on-One Appointments
Bridal Gallery
View our amazing brides on their Wedding Day.
Why Choose Accapella Bridal
Read some of our amazing testimonials
Introducing Connie Di Genni
Why Choose Accapella Bridal?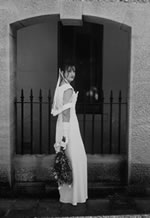 Accapella Bridal is a unique experience for brides to be in the Wollongong and Illawarra area.
Stocking internationally renowned wedding gowns, Accapella is a bridal boutique that brings you only the highest quality in gowns and service.
We don't believe that one dress fits all, and for this reason, your bridal consultation is one-on-one with bridal couture seamstress and owner of Accapella Bridal- Connie Di Genni.
At Accapella, you will get a personalised experience with the full benefit of Connie's 25 years experience in bridal wear.
We believe that a wedding dress chooses the bride as much as the bride chooses her wedding dress, and with an expert eye and opinion, you really will walk out with a dress that is once in a lifetime.
Virtual walk through of our Bridal Store