Madi Lane Trunk Showings
Accapella Bridal will be hosting our newest designer, Madi Lane, for a trunk show on the 29th to 31 st May 2020.
I previewed the 2020 collection back in Febuary and girls...it is STUNNING.
You'll be among the first brides to see the new designs, before the new dresses are released. This trunk show is perfect for brides getting married from November 2020 onwards. I'd love to see lots of girls come in, as seeing the dresses on 'real life' bodies helps be decide which dresses to buy for the boutique!
Dresses are boho inspired, with a few gorgeous crepe dresses thrown in. Madi Lane's crepe is luxuriously thick, which allows it to drape flatteringly across the body.
As always, it's by appointment only. Give the boutique a call and we can schedule yours in. Appointments are currently available for the 29th-31st May
Madi Lane season Launch Video
29,30,31st May 2020
Book your Appointments
We only offer One-on-One Appointments
Bridal Gallery
View our amazing brides on their Wedding Day.
Why Choose Accapella Bridal
Read some of our amazing testimonials
Introducing Connie Di Genni
Why Choose Accapella Bridal?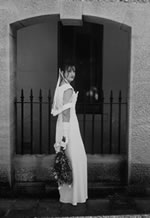 Accapella Bridal is a unique experience for brides to be in the Wollongong and Illawarra area.
Stocking internationally renowned wedding gowns, Accapella is a bridal boutique that brings you only the highest quality in gowns and service.
We don't believe that one dress fits all, and for this reason, your bridal consultation is one-on-one with bridal couture seamstress and owner of Accapella Bridal- Connie Di Genni.
At Accapella, you will get a personalised experience with the full benefit of Connie's 25 years experience in bridal wear.
We believe that a wedding dress chooses the bride as much as the bride chooses her wedding dress, and with an expert eye and opinion, you really will walk out with a dress that is once in a lifetime.
Virtual walk through of our Bridal Store