Book your Appointments
We only offer One-on-One Appointments
Bridal Gallery
View our amazing brides on their Wedding Day.
Why Choose Accapella Bridal
Read some of our amazing testimonials
Barcelona Bridal Fashion Week
Accapella Bridal will be closed from 27th April - 5th May 2016.
Hi Accapella Brides,

I am off to Barcelona Bridal Fashion Week - and I couldn't be more excited!

It will be so much fun to select my 2017 collection, and the event allows me to look for new designers to add to my collection, or new and unique styles to offer you. For me, it is important that I am able to provide my clients with a selection of dresses that stand out from the other boutique offerings, both locally and regionally. I will be paying specific attention to innovative plus-sized designs, and will post photos while I am there.
I will endeavour to return all urgent email communication, otherwise will reply to your enquiries when I return.
Why Choose Accapella Bridal?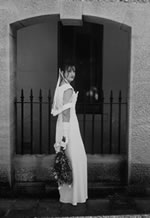 Accapella Bridal is a unique experience for brides to be in the Wollongong and Illawarra area.
Stocking internationally renowned wedding gowns, Accapella is a bridal boutique that brings you only the highest quality in gowns and service.
We don't believe that one dress fits all, and for this reason, your bridal consultation is one-on-one with bridal couture seamstress and owner of Accapella Bridal- Connie Di Genni.
At Accapella, you will get a personalised experience with the full benefit of Connie's 25 years experience in bridal wear.
We believe that a wedding dress chooses the bride as much as the bride chooses her wedding dress, and with an expert eye and opinion, you really will walk out with a dress that is once in a lifetime.