​Alteration of the Week Design Changes
Connie Di Genni
Friday, August 10, 2018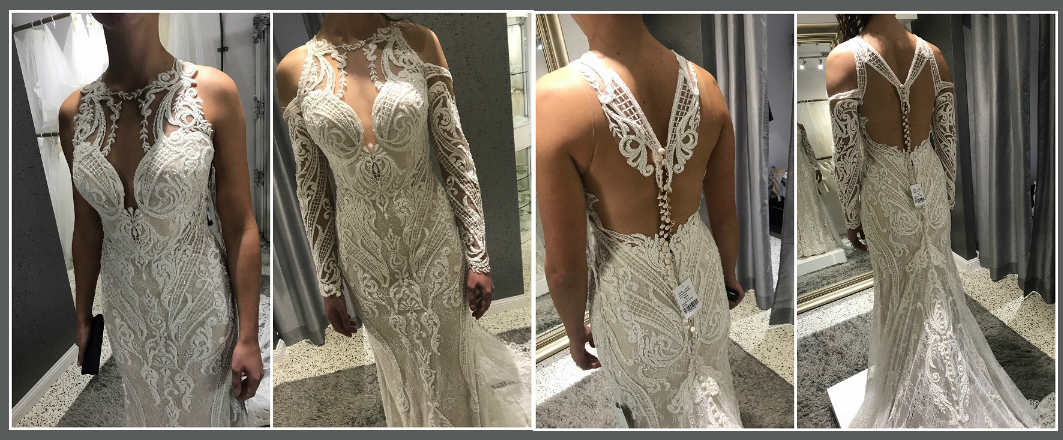 Alteration of the Week - Design Changes
This bride wanted an on-trend 'cold shoulder' neckline. This design detail combines a high neckline and sleeves with cut-outs over the shoulder and is a great way of showing off a shapely upper body.
I don't have anything like this in the boutique, but I mentioned to the bride that Martina Liana designers are happy to do custom design changes with enough notice. I knew the bride had missed the main cut off date for this, with her wedding being held in July, but thought she may have made it with enough time to pay the express fee. We tried a few dresses on and decided that the Martina Liana 948 was the best option for such a significant alteration.
I called the Martina Liana head office while my bride was in-store; unfortunately she had *just* missed the cut off for the express fee. I spent a little bit of time troubleshooting the issue with the designers and they suggested that I take on the customisation myself! What a great idea! The designer sent extra lace and tulle for me to use when creating the sleeves and, because the dress was already racer-back, the customisation went smoothly.
1.I removed some of the lace detail from the front and back of the bodice to create a sharper edge
2.Removed swirl appliqué from the back illusion tulle
3.Added sleeve to bodice underneath the arm
4.Left sleeve trim at the bottom in swirl design with a downward peak at the back of the wrist
Check out the before and after photos; they are AMAZING!!! The bride is happy, so I am happy. This is why I don't do alterations for brides that haven't bought their dresses from my boutique - by dedicating myself to my own girls, I can have enough time to take on larger alteration projects like this one!
Connie xo