Bridal Appointments
Connie Di Genni
Wednesday, April 10, 2019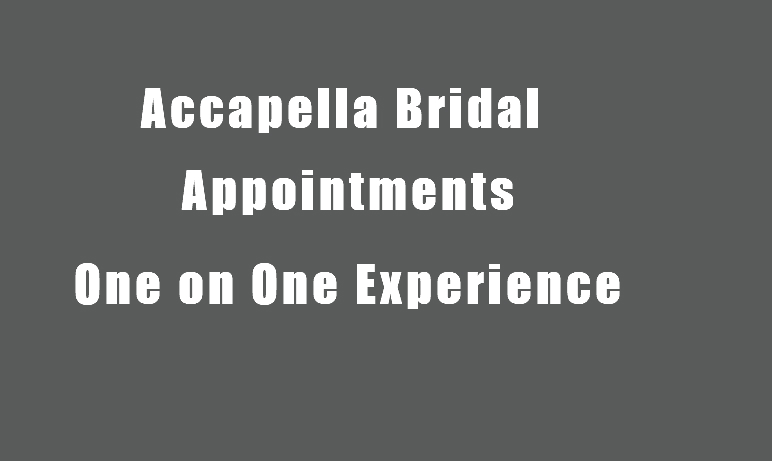 Good morning, Brides,
I've had a bit of confusion over appointments the last few weeks. As most of you know, your consultation at Accapella Bridal Boutique is by appointment only. This allows me to offer you my full and undivided attention, gives you the privacy to try on dresses you wouldn't otherwise feel comfortable with, and gives you the full 'run' of the shop floor. I work this way because it benefits YOU. Unlike many bridal stores, I do not require a deposit for your appointment time, as I do not wish you to feel pressured to rebate that cost against a dress if I don't have any styles you like.
Mid-week appointments are easy to get, and I don't confirm these by email or text. If you need to cancel last minute, that's fine - I always have alterations to do during the week.
Saturday appointments are confirmed via text message on the Thursday or Friday immediately prior to your appointment. There is a long waitlist of brides eager to secure those appointments that become available or remain unconfirmed by 7pm on Friday night.
If you have confirmed 'yes' and a true emergency arises and you are not able to make your appointment, please let me know as early as possible so that I may pass your appointment onto one of our local waitlisted brides. Those brides who simply do not turn up and make no attempt to contact the store (before OR after their allotted appointment time) will need to make subsequent appointments for the less in-demand weekday availabilities.
Connie xo