J cup bust size
Connie Di Genni
Wednesday, May 22, 2019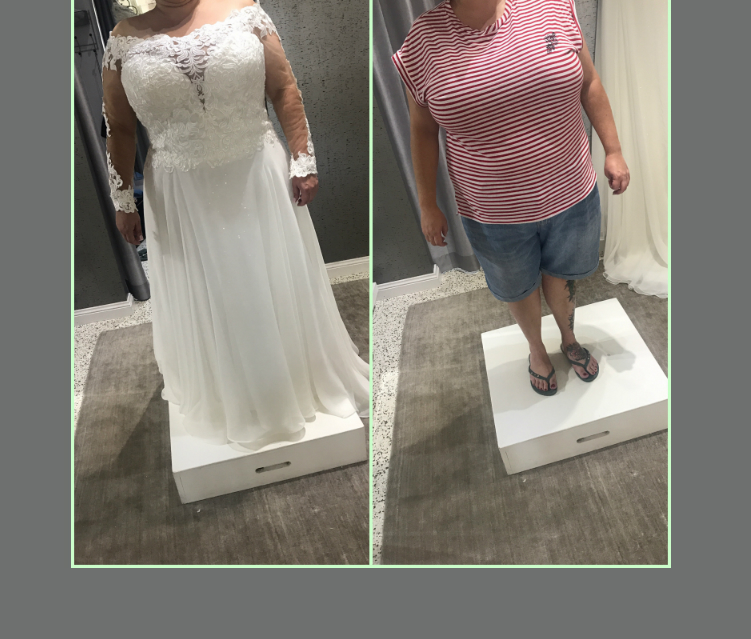 Brides,
This bride is a size 24 and she has a J cup bust size.
She is ecstatic! Because of our alterations and smart dress choice, she wont have to wear a bra underneath her wedding dress. This has never happened in her life.
There was quite a lot of alterations to complete so that we could have this dress fitting perfectly. The bride's large bust required a larger sized dress than her small frame needed - she is quite petite despite being plus size, and with a short torso, narrow shoulders and slender arms. To ensure it fitted correctly, I ran the bodice in at the shoulders and down the length of the sleeves, and I altered the length of the bodice so that it fit proportionately to her stature.
I took a photo of her in her normal clothes and one in her wedding gown and it looks like she's lost a few kilos just by wearing the right dress for her size. It is always lovely when this happens! This bride did not come in with this style of dress in mind, but I suggested for her to at least try it on for the following reasons:
1.In-built support and properly structured
2.Bust wasn't too exposed
3.Off the shoulder balanced her thin arms and took attention away from larger bust
Connie xo