Last Trunk Show for 2018
Connie Di Genni
Thursday, December 06, 2018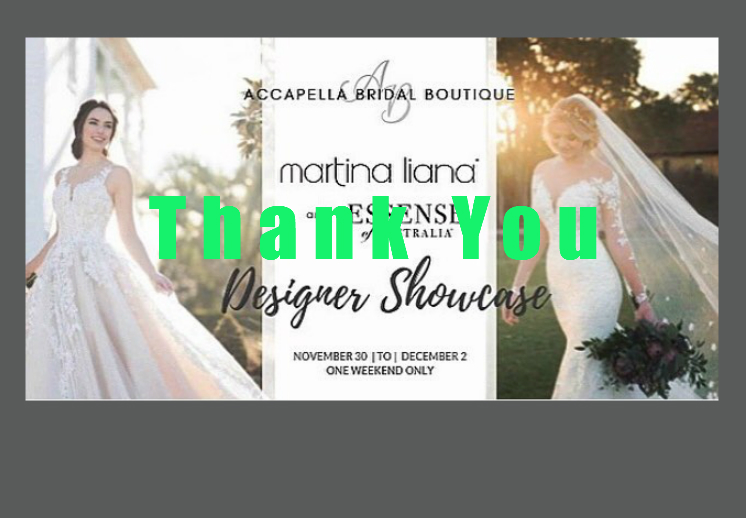 Well that's a wrap on the last Trunk Show for 2018! It was an extremely successful weekend and it was an honour to get to share it with you all. Thank you for trying on so many dresses and going out of your comfort zone with design choice - it has been immensely helpful for me to see the designs on so many body shapes, and I am thrilled to say many of you ended up purchasing dresses that you would never have otherwise tried on! Congratulations!
It was really lovely having the design team there. They were engaging and knowledgeable and everyone benefited. At the end of the day, they said they were amazed at how far above and beyond I go for my clients - bending the company rules as far as I can to ensure my brides get what they need, when they need it, and the clear fact that I just cannot bring myself to sell a dress to a bride unless it is going to be perfect. A great example of this is one bride who was just 1" too long in the torso for the two dresses she loved. The designer made a few suggestions for how we could hide this fitting issue, but I wanted the dress to look the way it SHOULD look, rather than looking 'fixed'. I've asked the bride to call me back in a few weeks, and if the dress makes the final product list I will ask them to make an adjustment to the pattern.
The trunk show coordinator said that they always knew my brides were special to me, because when I call about their dresses I speak of my brides like they are my friends or daughters. But they are genuinely amazed at just how much time and effort I go to with my personal consults and fittings, and they have said that Wollongong must be very lucky to have such a dedicated bridal boutique. It's made me feel really lucky that someone has noticed all that I try to achieve!
Connie